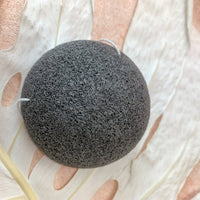 Description
About Our Vegan Konjac Sponges:
Konjac sponges are made of a natural fiber that comes from devil's tongue, a potato-like plant that grows in Korea, China, and Japan.
Ours are all natural, made from Japanese Konjac vegetable roots, and enriched with Green Tea Extract and Charcoal.
Mother Earth Approved: Eco-friendly and fully sustainable konjac. It is 100% biodegradable and compostable, so they're totally waste-free!
Each set comes with 2 sponges:
1 Green Tea has antioxidant benefits and protects skin from damaging free radicals.
1 Charcoal is a great natural cleanser and purifier. Best for blemishes or oily skin.
What Is A Konjac Sponge?
Why use a Konjac Sponge?
A konjac sponge is basically a cleanser and exfoliant rolled into one. Softer than a loofah and finer than a washcloth, its unique texture gently removes dirt, oil, dead skin cells, and even stubborn makeup. Once all that stuff is off your face, your skin is much softer to the touch and looks brighter. Makeup goes on better, too.
Best of all, konjac sponges are so gentle, even those with sensitive skin or rosacea can use them without fear of irritation.
How to Use:
1) Soak sponge in warm water for a few minutes, and it'll become super soft.
2) Squeeze a few drops of your favorite cleanser onto the sponge - sans cleanser works well too
3) Massage your face with the sponge in a circular motion.
4) After use, rinse the sponge and press it between your hands to drain water out, hang to dry when not in use.
5) Replace sponge every 3 months.