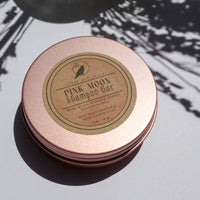 Description
Our Pink Moon Shampoo Bar is a luxurious and captivating hair care experience that will transport you to a realm of pure indulgence. Handcrafted with meticulous care and infused with a harmonious blend of plant-based ingredients, this shampoo bar is a true masterpiece, designed to nourish your hair while pampering your senses.
At the heart of our Pink Moon Shampoo Bar is a pH-balanced syndet bar base, meticulously formulated to cleanse your hair with utmost gentleness. It respects the delicate balance of your scalp, leaving your hair feeling fresh, vibrant, and perfectly nurtured. It also works as a lovely soap & shave bar!
Enriched with the magic of nature, our shampoo bar features a symphony of exquisite botanicals. Infused with beet root powder, it imparts a subtle blush of color, enhancing your hair's natural beauty and adding depth and dimension. Pink kaolin clay, known for its detoxifying properties, gently purifies the scalp, promoting a healthy environment for your hair to thrive. Indulge in the rich nourishment of cocoa butter and jojoba oil, which work together to hydrate and strengthen your strands, leaving them silky smooth and irresistibly touchable.
But the true allure lies in the breathtaking aroma that envelops your senses. Our Pink Moon Shampoo Bar is delicately scented with a captivating blend of rose, black pepper, and jasmine essential oils, creating a sensory journey that evokes elegance, passion, and grace. With each use, let the aromatic bouquet transport you to a blooming rose garden under the moonlight, as you revel in the sheer opulence of this exceptional shampoo bar.
We believe in protecting not just your hair, but also the planet we call home. Our Pink Moon Shampoo Bar comes packaged in eco-friendly materials, including a reusable rose gold tin that exudes sophistication and convenience. Perfectly sized for travel, it ensures your hair care ritual remains intact, no matter where your adventures take you.
Experience the Pink Moon Shampoo Bar and immerse yourself in a world of sensory delight. Embrace the beauty of nature, the elegance of scent, and the joy of sustainable living. Elevate your hair care routine and let your hair shine with a lustrous radiance that is simply irresistible.

Ingredients: Sodium Cocoyl Isethionate, Propylene Glycol, Glyceryl Stearate, Aqua, Glycerin, Jojoba Oil*, Cocoa Butter*, Beet Root Powder*, Rose Kaolin Clay*, Pure Essential Oils of Rose Otto, Black Pepper and Jasmine. *Denotes Organic
To use: wet your hair thoroughly, then rub the bar directly onto your scalp and hair, or create a lather by rubbing the bar between your hands and then applying the lather to your hair. Gently massage your scalp and work the lather through your hair. Rinse thoroughly with warm water.
To care: after each use, keep the bar in a dry place, away from water, allowing it to dry properly and, ultimately, last longer. If you're traveling, you can store your bar in this soap tin to keep it dry and mess free!